.303 British

My Enfield No.4 Mk.1 Caliber .303 British
I picked up this Enfield No.4 Mk.1 some years back at a local gun shop. Someone had started to sporterize it and the result was not a pretty sight. There were quite a few dents/dings and an arsenal repair on the walnut butt stock. The fore stock was cut down and made of a solid (butt ugly) piece of beech The metal's finish was worn on the receiver and muzzle.
Good things; the action is glass smooth and the bore clean. There are only a couple of dings on the receiver and the rear sight is in good working order
I put a few rounds thru it to check function; then stuck it in a hidden away corner. That changed when I found some decent wood for it (that didn't cost me more than what I paid for the rifle). I've started restoring it to military dress. The wood cleaned up well, but I found barely a noticeable repair below the safety. That little blip aside, the No.4 is looking a lot better in new clothes. I guess I need to find a correct sling now. ~ GB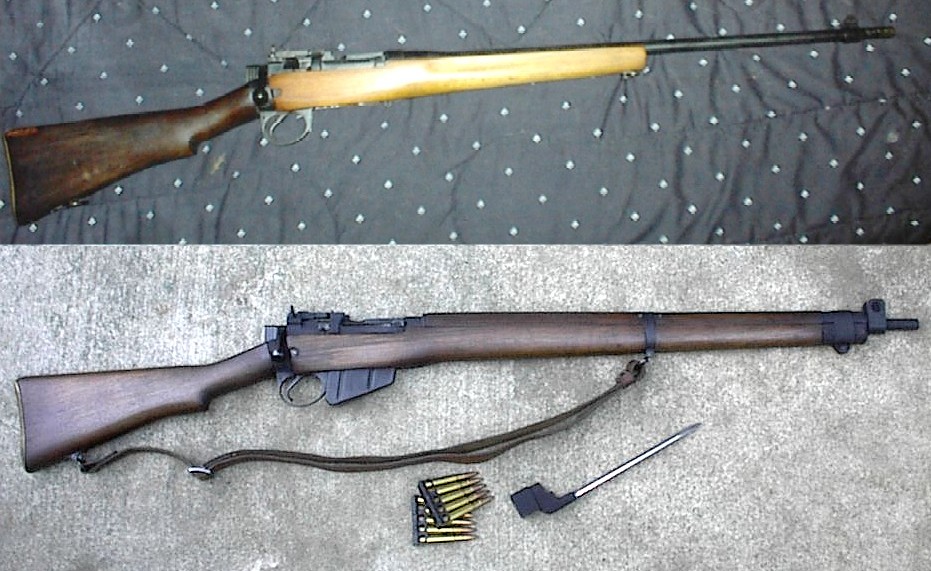 Some useful links:
Surplus Rifles forums - Enfields
Enfield No. 4 Disassembly and reassembly
Enfield #4 MK-1 Rebirth (project)
Lee-Enfield No 4 Mk 1 Parts at SARCO Inc.
Lee-Enfield No 4 Mk 1 Parts at Marstar Canada
Screw Threads used on Enfield Rifles
The Indestructible Scope Mount
How To Fashion Your Own Flush Fitting Lee Enfield Magazine
Saving a Burnt Out Jungle Carbine (No 5 Rifle)
The Enfield Collector's Digest Out of print, but back issues listed as available.
SMLE videos on YouTube - The first one has a good tip about removing the butt stock on a No.1 MKIII
More firearms stuff:
My Springfield Armory 1911- A1 90's Edition
Installing an XS Big Dot sight on a "J" frame S&W
Sprucing up a rode hard and put away wet Marlin 75